Musical iPhone Keyboard: Love It or Leave It?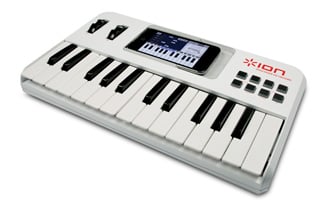 I've been on the fence about the the iDiscover Keyboard since I first saw it last week in a CES roundup, so I figured I'd pose the question here. The keyboard acts as a docking station for your iPhone, transforming it into a 25-key piano. The keyboard comes equipped with a custom-sound app that works with the keyboard to create and share music.
I'm interested to learn more details (including how much this will cost), but I'm not sure how I feel about the gadget. It looks like it could be fun, but what happens if I decide to switch from my iPhone?