Mute Twitter Followers
12 Days of Geek Tips: Mute Twitter Mentions of Movies and TV
December is the happiest time of year — but it's also the busiest, which is why there wasn't any room for movie premieres on that jam-packed schedule. Who has time for a three-hour sitting when there's shopping and party planning to be done?
If you've been holding off moviegoing for holiday break, avoid inevitable spoilers on Twitter with the amazing app Tweetbot ($3), a full-featured client that supports multiple accounts, smart gestures, and, most importantly, muting keywords or conversations.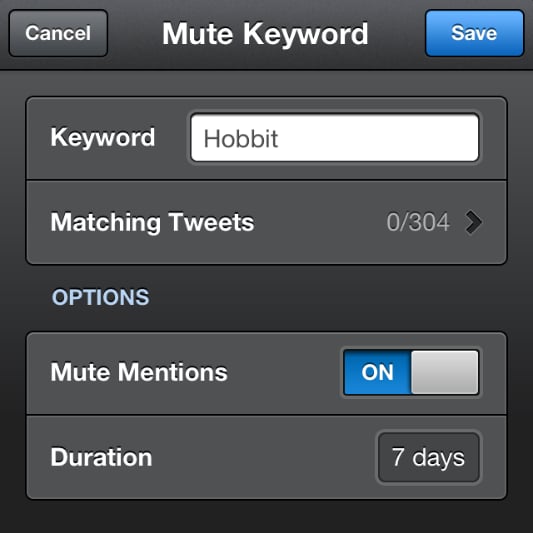 In the iOS app, long press one of the two right buttons in the navigation panel. Tap the quote bubble with an "x" in it, and that will take you to the Mute Filters page shown above. On the top right, press edit, and then hit the plus (+) sign on the left to add a mute filter for keywords or clients.
Add the most general keyword as possible. For The Hobbit: The Desolation of Smaug, we've just added "Hobbit" and set the duration for the next week. The filters are great for season finales and trailer spoilers, too. If you're working from a desktop, check out the Tweetbot client for Mac ($20).