MyScript Notes Handwriting App on the iPad
Download of the Day: MyScript Notes Mobiles
Your everyday bag is certainly packed with enough: wallet, smartphone, camera, iPad, and an old-fashioned notebook to jot down passing moments of inspiration. Make the final leap into a technology-enabled life and finally use the iPad as an actual handwriting tablet.
MyScript Notes Mobile for iPad ($8) provides the familiar pleasure of writing notes, reminders, or the next great novel without any pesky autocorrect windows popping up.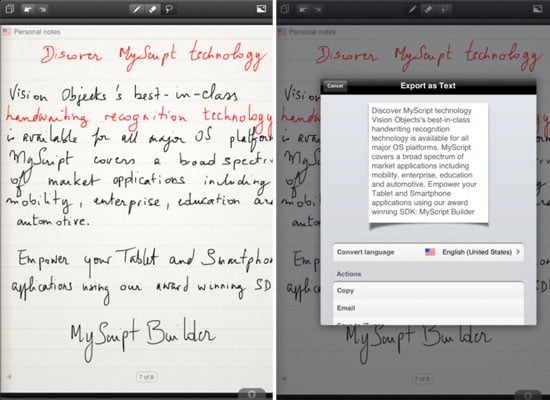 Take basic notes using MyScript and convert into shareable digital text in one of 32 languages. Converted text can be sent directly to an email client or social network. When you want to keep the look of the notebook page intact, they can also be sent outside the app as a PDF or image file.
We also like that you can take a page from your old elementary school habits and create multiple notebooks for each purpose within the app to stay organized. Label one notebook just for pictures, one for work ideas, another for home projects, and whatever else you used to keep in the paper notebook no longer weighing down your bag.