MySpace Incorporates Facebook Into Site and Profiles
Worlds Collide: MySpace Now Connects With Facebook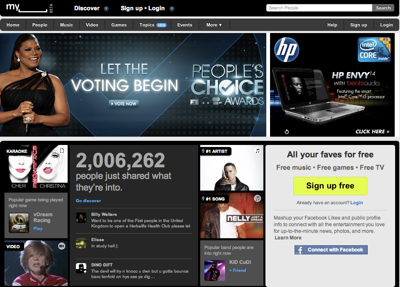 MySpace recently rolled out a refresh on its website, including a brand-new (minimalist) logo. But apparently the changes won't stop there. As of today, you can now sign into MySpace using Facebook Connect. Say what?
MySpace membership has been on the decline over the past few years, with a large majority of its users heading to greener pastures. But today, it seems that MySpace is putting the final touches on its new identity as an entertainment hub and welcoming Facebook users with open arms.
Find out more about the MySpace/Facebook mashup after the break.
MySpace will allow Facebook users to sign into the site, create their own MySpace profile complete with custom news stream, and even "like" pages and items across MySpace. Additionally, you can set your MySpace profile to pull in all of your Facebook status updates so your MySpace pals can see what you're doing as well.
What does this mean for the future of MySpace? I'm not sure — MySpace's revamp into a social entertainment network is cool, but only time will tell if people will visit the site, or if there will be an endless stream of Facebook updates on profiles. Check out a demo video about how this mashup will work below.