Myspace iOS App
Myspace For iOS: A Surprisingly Solid Music App
It's been almost nine months since Myspace, the reigning social network of the early '00s, previewed its design transformation. Now the Justin Timberlake-approved (he's a co-owner) "social entertainment destination" has come out of beta, debuting a new landing page and an iOS app.
We put the Myspace app under a mobile microscope to figure out how much the platform founded by everyone's first social network friend, Tom Anderson, has changed.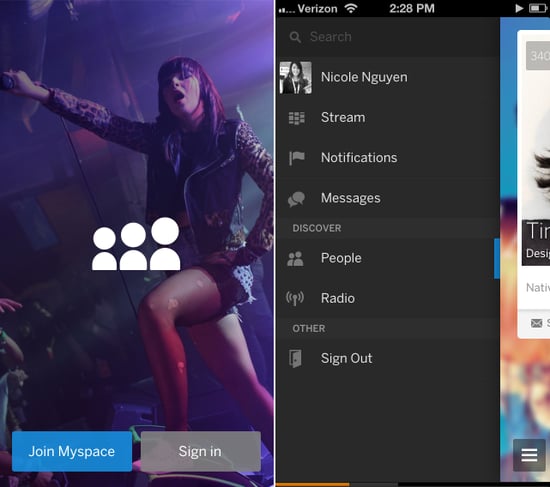 Myspace has reformatted itself to cater to the creative community (artists, writers, photographers, and the like), but there is a clear emphasis on musicians. Myspace Music had always been the company's stronghold, and the music-centric features of the desktop site, like user-created playlists and musician profiles, have spilled over into Myspace for iOS.
Internet radio apps like Pandora, iHeartRadio, and Slacker are a dime a dozen, but the Myspace mobile app distinguishes itself with well-curated, high-quality radio stations (not to mention unlimited listening). Before downloading the new Myspace, take a look at some of the platform's new features.
Genre- or User-Based Radio
Myspace for iOS is actually a mobile music-streaming service hiding under the cover of a social network app. Radio is the app's best feature: the selection of music is varied, listening is unlimited, and there's a wide array of genres and musician-based radio to choose from.
The caveat is that you can only skip a track four times, but you can switch between stations unlimited times. Our favorite radio station so far? Pharrell's.
Get more of Myspace for iOS and the radio station you should listen to after the break.
Finding People Who Aren't Your Friends
One curious omission from the app is the ability to find friends via email, Twitter, or Facebook. Myspace encourages connecting with artists and other people who aren't your friends.
Artist Pages
Musician pages have been updated and now feature a large "Play" button that you can tap to listen to that artist's curated station. Kenna, Myspace's new creative lead, has a great mix of trip-hop, oldies, and R&B.
GIF-Making
Myspace for iOS is great for music . . . but also GIF-making. Tap the Snapchat-style camera to capture a photo, or press and hold to create a spectacular stop-motion-animated image.
Internet radio-heads, will Myspace replace your music-streaming app? With Twitter #Music losing steam and iTunes Radio out this Fall, we're curious to know if you'll be downloading Myspace for iOS.