MythBusters Comic-Con 2013
MythBusters at Comic-Con: Space Games and the Dirty Test You Didn't See
"Enthusiasm advocacy" is a motto MythBusters stars Jamie Hyneman and Adam Savage take seriously. Every myth they debunk or science experiment seen on the show is because it's a subject the two are genuinely interested in. Their giddiness to tinker, fiddle, and think big in the name of science is the secret to the program's loyal fan base. So when they showed up to Comic-Con Geeklandia, they received a full house of fans ready for behind-the-scenes stories on tests gone wrong, the creative process, and nerdery galore.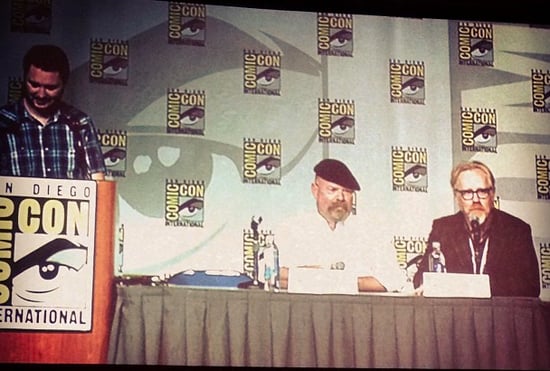 Here, the stories Jamie and Adam shared with host Wil Wheaton and the rapt Comic-Con audience.
A Con Tradition
Every year, Adam dresses in a masked costume, tweets clues to his appearance, and walks the convention floor, waiting for someone to spot him. Adam recounted how this week, as he was dressed in a majestic Admiral Ackbar costume (seen below), after sending a vague tweet "I'm on the floor," a boy about 10 years old looked up at him and said to his parents, "That costume's so good it must be Adam, incognito." The "so good" mask was created by makeup and prosthetics artist Frank Ippolito, a former contestant on SyFy's Face Off show. Time for the Find Adam at Comic-Con game to involve a much less elaborate costume. May we suggest a plastic Spider-Man mask?
An Average Day at the Office
When you're part of the MythBusters crew, a normal working day easily takes strange twists. Adam and Jamie were quietly tinkering in the workshop one day, minding their own business, when they got a strange phone call. Strange in that it was from an astronaut, Twitter superstar Chris Hadfield; even stranger still that he was calling from space aboard the International Space Station where he was then-commander. The Canadian astronaut made the galactically long-distance call to get the guys' help creating a space-appropriate game to fill the astronauts' downtime (involving duct tape, of course) and creating recipes for gourmet space food.
Read on for the dirty test that didn't make it to living rooms.
The (Filthy) Test You Didn't See
Jamie and Adam explained there's plenty of ideas that don't make it to the show even after they've spent days at the whiteboard plotting it out. One example of a question never shared with audiences: can 10 pounds of, uhm, horse excrement, fit in a five-pound bag? Those with Smell-O-Vision on their TVs thank you, guys.
A Hardware Store Future
The pair love hacking tools in the workshop into something better, faster, stronger. Sick of hardware store finds that seem to make a project more work than it should be, Adam believes they have "very specific ways in which tools can be better," which may soon turn into a MythBusters line of tools. Here's hoping the huge warehouse of resources and science skills are included with purchase.
And for one last reveal, the much-anticipated MythBusters meets Breaking Bad episode that puts Heisenberg's recipe to the test is set to air Aug. 12.