NASA Eyes on the Solar System 3D App
Website of the Day: NASA Eyes on the Solar System
Commercial space flight may actually happen in our lifetime, but why wait for a tour of the solar system when you can get a better look now with NASA's new Eyes on the Solar System app for your Mac or PC. All that's required to see the Milky Way up close and personal (and I do mean up close — you can hop on an asteroid, see NASA's Juno spacecraft in real time, and check out other planets, thanks to loads of NASA data) is download the Unity 3D plug-in and you're ready to rock and roll, space style.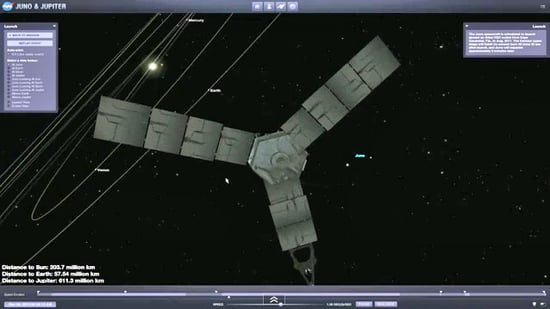 If you want to get a precursor to what to expect from Eyes on the Solar System, check out this walk through of the Juno mission to Jupiter. It's pretty cool to see things happening in real time, but you can control space in this app — speed things up to see what's expected in 2015 or take a flyby of Mars to see the landscapes. If you can't find me, I'll be swimming through Saturn's rings!
Do you have an interesting website you want to share? Join the Website of the Day group and blog it for a chance to be featured on GeekSugar.