NASA and Gowalla Space Scavenger Hunt
NASA Teams With Gowalla For National Scavenger Hunt
Although Foursquare is still your location-based app of choice, Gowalla is still in the game and has teamed up with NASA to launch a national scavenger hunt. Called "Search for the Moon Rocks," this hunt requires you to track down a few space items, and check in to win a special badge on your Gowalla Passport.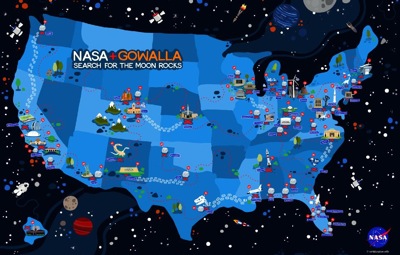 Moon rocks, which were brought back during the Apollo 12-17 missions, are currently on display at various museums and planetariums around the country. Check in at one of these places and earn a virtual moon rock badge. Check in at a NASA visitor center, science center, planetarium, observatory, park, nature center, zoo or aquarium that is part of NASA's Museum Alliance, and earn a space suit, NASA patch, or space shuttle badge on your passport as well. That's all well and good, but space geeks want to know — what kind of real prizes are there?
Find out after the break.
The scavenger hunt was just announced yesterday (Oct. 14), so if you're one of the first 100 Gowalla members to collect three out of the four NASA-branded patches, you'll get a poster version of the artwork you see accompanying this post. Not bad for doing what you love — geeking out about space!