NASA Hi-Res Picture of Earth
Geek Shot: NASA's Hi-Res View of Earth
Countless satellites hover over earth transmitting phone calls, powering GPS systems, and in the case of a new NASA satellite, measuring the planet's wide-ranging climate. The NPOESS Preparatory Project (NPP) satellite, which launched in Oct. 2011, is on a sun-synchronous orbit, meaning it passes over the equator at the same local ground time in every orbit. As NASA explains, "When NPP flies over Kenya, it is about 1:30 p.m. on the ground. When NPP reaches Gabon — about 3,000 kilometers to the west — on the next orbit, it is close to 1:30 p.m. on the ground."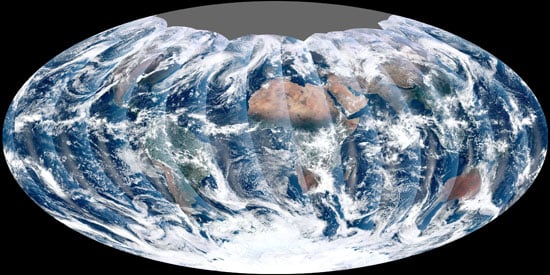 All the photos NPP takes of earth have similar lighting, creating a panorama like the one below. Each wedge in the photo actually measures 1,900 miles of earth, within roughly the same local time for every piece of the orbit. Notice the Arctic in the north is missing from this picture, as it receives too little light in the Winter for NPP to photograph.
Imagine if this technology was used on earth's own celestial satellite — we could finally see the mysteries lurking on the dark side of the moon!