NASA Juno Jupiter Photo
March on Mars, Martin Freeman, and More Tweets From Geeks We Love
This week in the Twitterverse, our favorite Internet celebrities modernized historic moments and received NSFW gifts from fellow geeks. Astrophysicist Neil deGrasse Tyson hopes to one day lead a March on Mars, and actors Martin Freeman and Simon Pegg shared a very special moment on The World's End set. See Neil, Martin, and more of our favorite geeks in this week's top 10 tweets.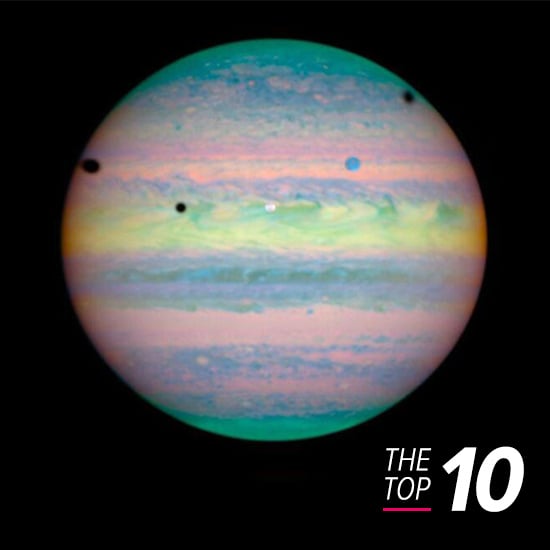 StarTalk Radio host Neil deGrasse Tyson modernizes Martin Luther King Jr.'s vision, 50 years after the historic March on Washington.
I have a dream that one day . . . we will walk on Mars

— Neil deGrasse Tyson (@neiltyson) August 26, 2013
The sounds of Siberia, Marissa Mayer's critics, and more pithy messages after the break.
The Sync Up host Veronica Belmont listens to the sounds of south Siberia.
Was awoken at 3am by what sounded to be frat boys doing their best Tuvan throat singing impressions. You kind of had to be there.

— Veronica Belmont (@Veronica) August 26, 2013
Oh snap. Yahoo CEO Marissa Mayer (who's riling up lots of critics these days) squashes a report that she, er, curls.
.@JaceyZembal @jeffbercovici I'm sure curling is fun, but I've never played. Don't believe everything you read on the Internet :)

— marissamayer (@marissamayer) August 28, 2013
Mars Curiosity flight director Bobak Ferdowsi anticipates the arrival of NASA's Juno probe, which is on its way to Jupiter and very close to its final destination.
Excited for @NASAJuno to arrive! MT"@NASAViz: 3 moons' shadows on Jupiter on March 28, 2004 pic.twitter.com/uTU3no7UKj"

— Bobak Ferdowsi (@tweetsoutloud) August 30, 2013
The World's End writer and actor Simon Pegg gifted costar Martin Freeman an oil painting of a naked Benedict Cumberbatch riding a unicorn. Allegedly.
Awww, Little Martin gets his wrap gift, after his final shot on #TheWorldsEnd. I love this pic. pic.twitter.com/Gk4qsqM1MK

— Simon Pegg (@simonpegg) August 29, 2013
Perhaps Bonnie Burton, author of the Star Wars Craft Book, should marry a Khal and receive some fantastical eggs as a wedding gift?
Next year when I attend #DragonCon, I promise to bring my own dragon! pic.twitter.com/UrK4tCVHjt via @VintageWTF

— Bonnie Burton (@bonniegrrl) August 30, 2013
Actor Wil Wheaton tweeted skepticism about Ben Affleck's new role as Batman in the upcoming Man of Steel sequel, and received some heated backlash. He sent this message as a grave remember that the Interwebs are no joke.
Remember, kids... pic.twitter.com/U3AkOieJik

— Wil Wheaton (@wilw) August 24, 2013
J.J. Abrams: please reunite the cast of Alias.
Not opened since the time of Rambaldi. #FoundAtBR #tbt pic.twitter.com/UXdtixx4AZ

— Bad Robot (@bad_robot) August 29, 2013
Star Trek and X-Men actor Patrick Stewart has fans of all shapes, sizes, and species.
Our backstage Berkeley Rep mascot, aptly named Buddy, shows gratitude for a treat. pic.twitter.com/uw66mkciy7

— Patrick Stewart (@SirPatStew) August 24, 2013
Geek and Sundry's Felicia Day takes a stab at stale coffee science.
I'm not saying I'm unclean, but I will say I'm really good at curating mold in coffee cups I leave in my office for 3 weeks. #dirtyscience

— Felicia Day (@feliciaday) August 28, 2013