When Felix Baumgartner made a historic jump from the edge of space last month, there was one thing we forgot to mention — a rubber chicken did it first. Enter Camilla Corona [1]: a brave bird who flew solo via hot air balloon in April, during a solar radiation storm, no less, to the limits of the Earth's atmosphere. During the flight, Camilla collected radiation data for NASA's Solar Dynamics Observatory [2], who recruited the rubber chicken to tweet [3], pin [4], blog [5], and travel on its behalf. Camilla's main mission is to educate her audience about the sun and space weather through social media and appearances around the world.
But the real reason why Camilla is one of our favorite geeks? She's encouraging girls to pursue careers in science, technology, engineering, and math (STEM) by trying to become an astronaut herself. That's right: the rubber chicken is training for spaceflight. She's exercising, attending classes, and studying in order to become the first fowl in space. We applaud Camilla in her efforts to inspire young girls to become space explorers, and proudly present some of the NASA mascot's best Instagram moments.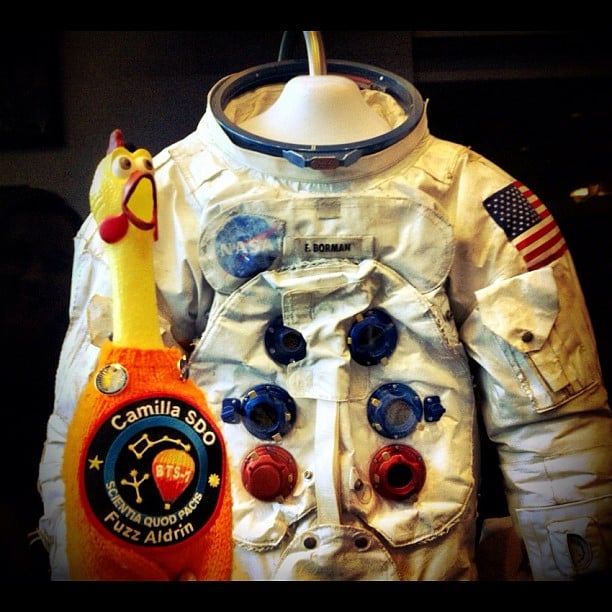 "Astronaut Borman's suit. He flew on Apollo 8 around the Moon; 1st humans to travel around the Moon."
Source: Instagram user camillasdo [6]
"On October 11 we will be celebrating 'International Day of the Girl'. As you might know, I am all about getting girls excited about Science, Technology, Engineering and Math. So for me, Girls + Education = Strong Space Exploration. For this celebration I am wearing my Space Camp outfit. I believe it to be a very appropriate outfit as Space Camp provides such great inspiration. Please join me, 10x10 - Educate Girls. Change the World, and all the girls around the world in this celebration. #STEM #10x10 #BasicMath #CNN"
Source: Instagram user camillasdo [7]
"My 35th Voyager 1 Launch Anniversary flight to the Edge of Space on Wednesday, Sep 5, 2012. Listening to the Golden iPad. Students from the Union High School in Bishop, CA launched this mission. #STEM #Balloon #space #science"
Source: Instagram user camillasdo [8]
"Los Angeles - the town of Stars. I belong... #la #hollywood"
Source: Instagram user camillasdo [9]
"Hello from the Technik Museum in Speyer, Germany. The space shuttle BURAN was the result of one of the most ambitious projects in the history of Russian space flight. The huge shuttle is 36 m long, 16 m high and weighs about 80 tons. As was the case with the US model, reusability after near-earth space flights was of major importance. The BURAN prototype OK-GLI shown in the museum was built in 1984 and was used for testing glidingflight and landing after reentry into the atmosphere. During this part of the project the OK-GLI completed 25 atmospheric flights between 1984 and 1989 and significantly contributed to the successful orbital flight of a BURAN shuttle in 1988. At the end of the 1980s financing of the BURAN project became more and more difficult due to economic problems. After the collapse of the Soviet Union further developments were stopped and finally the whole program was discontinued in 1993."
Source: Instagram user camillasdo [10]
"Very excited about this panel. It is the next Generation plenary on social media panel with Bill Nye The Science Guy moderating. It is really interesting hearing about social media used for science and operations. Just think about how social media has influenced you and your life? Share some with me, I am curious to hear your stories. #socialmedia #IAC2012 #Science #Stem"
Source: Instagram user camillasdo [11]
"As part of my flight training to the International Space Station (Exp 40/41) we astronauts need to stay in good shape. Not only to better cope with the stress of launch, but to actually stay healthy in zero gravity. Extended stays in reduced-gravity environments can cause a number of negative health impacts on the human body. One significant challenge is the potential for loss of bone density that crewmembers experience after traveling in space. After just a few days in space, reduced gravity begins to impact muscle density and function. That is why exercising prior and during a mission is so important. #NASA #Health #Space #STEM #Medicine #Gym"
Source: Instagram user camillasdo [12]
"A few turns."
Source: Instagram user camillasdo [13]
"This is just for you! I did a high-altitude flight out of California on Saturday. Based on preliminary thermal data, I reached an altitude of 124,800 feet, almost 10,000 feet higher than our previous best. I also obtained some amazing picture. I had a great flight. I endured temperatures as low as -60 C, air pressures akin to those on the planet Mars, and a brief free fall at 500 mph before parachuting nearly 40 km to the Earth below. #nasa"
Source: Instagram user camillasdo [14]
"Seriously! How cool is this Lego Space Shuttle?"
Source: Instagram user camillasdo [15]
"You got it! Another flight to the Stratosphere this past Saturday. This was at 116,000 feet, -63 C or -81 F. You can see my radiation badge on the lower left to measure solar radiation from the March 10, 2012 M-class Solar Flare. #nasa #stem"
Source: Instagram user camillasdo [16]
"A special visit from Venus Barbie and Canadian Astronaut Chris Hadfield (the 2D version) to NASA Ames. Chris is scheduled to launch to the International Space Station later this year and will become the first Canadian Commander of the ISS. Venus Barbie does STEM outreach, getting girls interested in science, technology, engineering and math. #NASA #CSA #Canada #STEM"
Source: Instagram user camillasdo [17]
"Getting girls excited about science and engineering is dear to me. And Brigitte is helping me today reaching out to more girls. #STEM #NASA #dsboston"
Source: Instagram user camillasdo [18]
"This is Wendy explaining me about Magnetic Fields on the Sun. I am connected to some batteries... zeep zeep"
Source: Instagram user camillasdo [19]
"T-100 minutes until my launch into the solar eclipse. We are launching a 2nd mission at T-160 minutes."
Source: Instagram user camillasdo [20]
"Astronaut Clay Anderson @Astro_Clay getting some love."
Source: Instagram user camillasdo [21]