NASA Twitter Contest For Mars Rover Launch
NASA Announces Mars Rover Launch Twitter Contest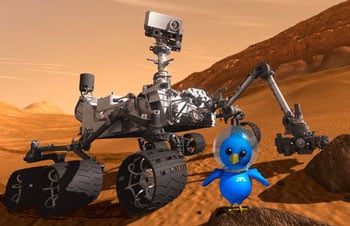 NASA must be reading our minds again, because its newly announced Tweetup contest to see the launch of the Mars Rover is a space geek's dream come true.
The two-day Tweetup for 150 NASA Twitter followers is set to correspond with the expected launch of the Mars Science Laboratory Curiosity rover on Nov. 25 at Cape Canaveral Air Force Station. As with all space launches, viewing the live launch is dependent on the day's weather. The actual Tweetup and socializing with other winners begins on Nov. 23 at the Kennedy Space Center, complete with a guided tour and the opportunity to speak to the scientists and engineers behind the space program.
Curiosity is expected to arrive on our galactic neighbor in August 2012 at the Gale crate for a two-year mission. The rover's main duties are to investigate "whether a selected area of Mars offered environmental conditions favorable for microbial life and for preserving evidence about life if it existed."
Registration for the Tweetup begins noon on Wednesday, Oct. 5, and closes at noon Friday, Oct. 7. The 150 participants will be randomly selected from the online registrations.
Source: NASA/JPL-Caltech