Natali Del Conte Interview on GeekSugar
Geeks We Love: Natali Del Conte From CNET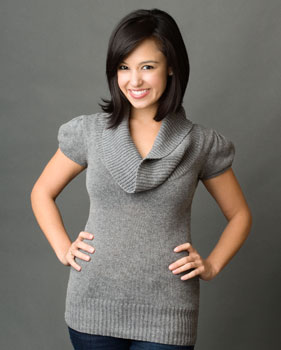 Welcome to the 2010 edition of our annual Geeks We Love series! As we count down to the holiday of amore, we're also giving some love to some of the most talented and adored geeks in the industry. This year, I thought I'd kick off the geek love-fest with a gal after my own heart: gadget geek Natali Del Conte!
When Natali isn't reporting for CNET's Loaded, she's covering the market and giving her tech-spert opinions on The CBS Early Show in NYC. Needless to say, this is one girl who's always on the move. But how does she keep it all together, and stay in touch with those who are most important? Well, with the help of tech of course. But Natali isn't all business, all the time. She's also down to earth, and totally relatable. Find out more about her in the interview below!
We know you from CNET, and CBS, but are there any other projects you're working on now?
In addition to CBS, I do several speaking engagements. I am currently working with CEA to chair the 2010 CEA Line Shows in June here in New York. We are putting together a really fantastic lineup of speakers and panel discussions for the show and I'm really excited about that. 
Were you always the tech diva in your house growing up?
Kind of. My sister didn't have to do the projects that I did. My dad would buy software and make me learn it on my Summer vacation. I had to print out reports on a dot matrix printer to prove to him that I was following his assignments. I didn't love it back then but I'm grateful for it now. These programs came on the big black floppy discs and the manuals were not written for pre-teen girls, let me tell you. But it got me where I am today so I can't complain. And what else was I going to do with my time? Ride bikes and play Nintendo? I did my share of that too. 
To hear what Natali has to say about Valentine's Day, her relationship status, and dating for geeks, just
.
Single or taken?
Taken.
In the past, I've heard you talk about your single-girl lifestyle — do you have any favorite geeky pick-up lines?
There is a lot of that on Twitter. I try not to solicit flirtations over Twitter because it just seems so self-absorbed. I see girls say things that they obviously know men are going to drool over and then take the bait and flirt with them back. I stay away from that. It is obnoxious. But no matter what I say there is going to be someone who finds a way to flirt over it. For example, I have really vivid dreams and I like to Tweet about them and I'll get responses like, "Well you were in my dreams last night, baby." It makes me laugh but I don't take it too seriously. 
Do you have any dating advice for geeky single girls out there now?
Unfortunately no. It is hard to be a single geek. Just the other day I realized how much I judge people for the laptop that they pull out at airport security. A guy could look nice and cute but if he lays a big old clunker (or a small pink netbook) on the conveyor belt, his stock plummets. So sad. But we have the right to be picky, right? 
What's the worst tech faux pas you've ever experienced while on a date?
Hm. I've had a guy tell me, "You eat a lot and fast." I can't say I loved that. I've had another guy who yelled at the cab driver unnecessarily. The worst was a guy who kept telling the waitress how famous I am. First off, I am most certainly NOT famous and secondly, that was just aggravating. He proceeded to send links to my Web site and show to his brother with his BlackBerry from the dinner table just for bragging points. He was messaging things like, "Check out this chick that I'm out with." Please. 
Do you think that tech brings couples closer together these days, or creates more of a distraction?
I definitely think it brings people together. Especially Google Calendar. It is the only way to get a man to remember what you've committed to together!
What is your favorite way to communicate — talk, text, or tweet?
I don't Tweet with the people that are close to me. Well, sometimes I do with my sister to get her to sign onto Google Video chat. But mostly it is text message and instant message. I also communicate with my significant other through Google Reader a lot. That is how we sent one another interesting articles that we want to discuss later. It's pretty nerdy. 
Do you Google yourself? Why or why not?
Not that often. Mostly because the suggested search terms are not something I need to concern myself with. Do I really need to know that the number 4 suggested term for my name is "Natali Del Conte breasts"? I don't want that to go to my head at all and I don't want to get prissy about it. There is no good response to that so I just don't do it. Okay, well I just did it in response to this question. But I will try not to do it again for a long time. I'd say I do it about four times a year. 
What will you be doing this Valentine's Day?
I have no idea. I'm not really into romantic ritual. Ask me how I feel about weddings sometime. It is a pretty contrived holiday but I usually don't mind contrived customs if they involve food. So I suppose I'll find a way to get a good dinner out of it but otherwise, my expectations are low. I do have a segment planned for The CBS Early Show about holiday gadgets. I ordered a pink Sony Pocket Reader with some cheesy bodice rippers pre-downloaded and a pink iPod Nano with the inscription "You Rock My World." The Nano was my boyfriend's idea. He's clever!