Natalie Portman's Birthday
5 Geeky Facts About Natalie Portman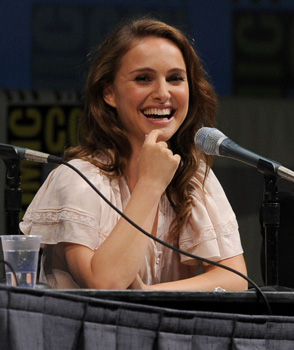 Today is Natalie Portman's 30th birthday, and while she didn't get a Google Doodle in her honor, she remains one of our favorite actresses with some serious geek cred. In celebration, we're rounding up five facts you may not have known about the mom-to-be that show off her geeky nature. Read on and geek out!
She's a science nerd — Natalie was named a semifinalist in the Intel Science Talent Search in 1998 thanks to her high school research paper, "A Simple Method to Demonstrate the Enzymatic Production of Hydrogen from Sugar." Science is sexy.
She loves her gadgets — Natalie keeps a Kindle on her at all times, and totes an iPad 3G to stay connected.
But she's also a vintage tech lover — Natalie says she still owns the first iPod, which first hit the scene in 2001. Let's face it — in tech terms, that's basically vintage.
She's into graphic novels — Natalie told last year's Comic-Con audience that she's been really into graphic novels since filming V For Vendetta. I wonder what her favorite adaptation would be?
She's Queen Amidala, hello!? — ICYMI, Natalie played Queen Padmé Amidala in the Star Wars prequel trilogy, which basically makes her queen geek.