Natalie Portman Interview From Comic-Con
Natalie Portman Geeks Out About Tech During Comic-Con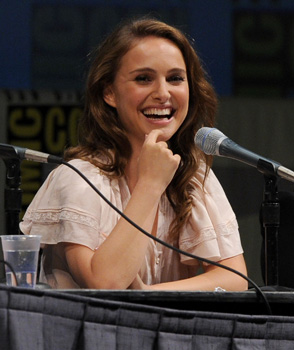 Natalie Portman is a geek's dream. Not only did she star in all three of the Star Wars prequels, but she's book smart, builds websites, and is totally someone you'd want to take home to meet mom. At this year's Comic-Con, Natalie and Thor costars sat down to chat about their upcoming release, but between talk of ice monsters and fun on set, Natalie also gave us a glimpse of her geekier side.
On what kind of geek she is: I think I have geek pedigree, but I'm not really a techie person. I've only recently started being into more graphic novels since V For Vendetta.
On if she's a Kindle or an iPad kind of girl: I have a Kindle, but I feel like the iPad is like the next [thing]. No one who's into tech stuff is like '"my Kindle!" Like I love my Kindle, but . . .
On her MP3 player preferences: I still have like, the first iPod, that's what I still use.
Natalie has mad love for her Kindle, but she's been spotted with an iPad 3G while on the set of her latest film. Could this have just been a well-placed prop, or does she swing both ways when it comes to tablets and ereaders?