Nathan Fillion Leonardo da Vinci Perfect Man Picture
Nathan Fillion Is the Perfect Man (Even da Vinci Knew!)
Even in a post-Firefly world, Nathan Fillion is our number one Browncoat. But now, there's further proof of his wonder, this time in an indisputable Renaissance style.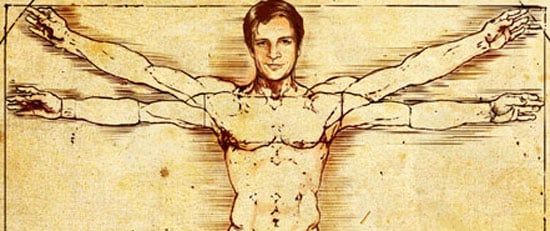 Available at this year's Comic-Con, Quantum Mechanix drafted Nathan in the likeness of Leonardo da Vinci's Vitruvian Man drawing, his interpretation of the perfect man. That devilish smirk and, um, strategically placed holster have us hoping the rumors of a Comic-Con Firefly reunion are true. See the full picture below.
The wait list for the 18-inch-by-24-inch poster ($15) and t-shirt ($20) of sci-fi perfection is open now.