National Photography Month Photo Tip of the Day 2010-05-05 03:47:50
Tips For Taking Great Pet Pics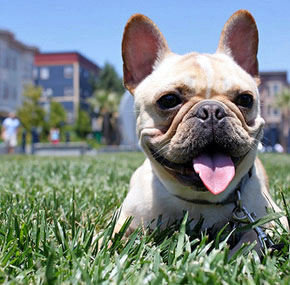 If you haven't seen PetSugar's Pet of the Day group, you really should get in on that. Combined with National Photography Month, it's a great way to show off how adorable your pets are! However, if they aren't so photogenic (read: won't sit still for the camera), have no fear — there are a few ways to get great pics of your furry friends without chaining them to the ground. Here, I'll pass along a few basic, but tried-and-tested tricks to getting the shot, no matter if Fido and Sassy are hyperactive, or totally lazy.


Create a distraction-free zone — Your pet's attention span can be short, especially if there's a lot of toys, objects, or items in his view. Clear out the area you'll be photographing in, so Fido's attention will be squarely on you.
But, Keep his favorite toy or treats handy — Although you should clear the area of unwanted clutter, you'll want to keep your pet's favorite toy or treat handy for when it's time to snap the pic. A little coaxing goes a long way.
To see a few more tricks, just keep reading.


Avoid using your camera's flash — One of the most distracting things about pet photos is the glare from the flash in his eyes. Open up a few windows for natural light, or take the photo shoot outside instead.
Get down to their level — The best way to really capture your pet's features is by getting down on all fours and photographing them at their eye level. Hovering over from above may be your usual position, but it doesn't give us much to look at . . . except the tops of their heads!
Choose the right setting — Fast-moving pets can make for blurry photos. Try changing your camera's setting to "sport" or "action" mode, which increases your camera's shutter speed and captures images faster, thereby reducing blur.