Neiman Marcus Christmas Catalog Car 2013
IPO-Friendly Tech Gifts From the Neiman Marcus Christmas Book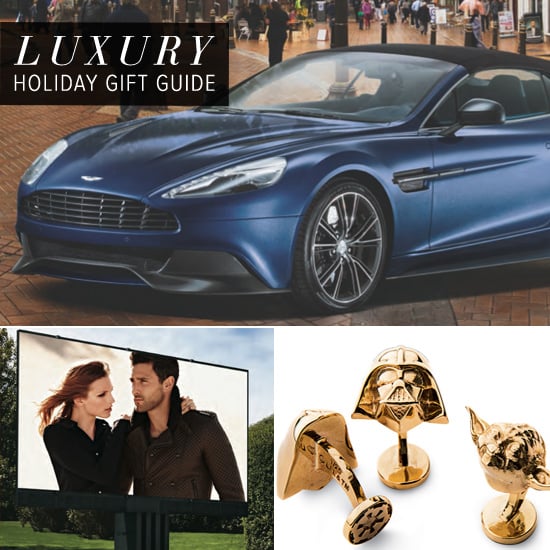 In the retail world, it's never too early for the holidays. Halloween costumes haven't even been packed away, but it's already 'tis the season for fantastical shopping. Our favorite wish-upon-a-star gift is found each year courtesy of the Neiman Marcus Christmas Book, where you'll see the most luxurious gifts to fit that person who has absolutely everything. Between the fine clothes, shoes, and housewares are indulgent bits of the gadget world that, let's face it, may only be for a select few lucky birds cashing out on the latest tech company to hit Wall Street in 2013.
Here, the not-so-usual gadgets in Neiman Marcus's 2013 Christmas Book we'd love to see Santa bring.
Ultimate Outdoor Entertainment System, $1.5 million

What sort of at-home entertainment system does $1.5 million get you in 2013? A 201-inch waterproof screen that rises from its underground location to a height of up to 15 feet at the touch of a button (for starters) in the Ultimate Outdoor Entertainment System. The LED screen is daylight compatible to take advantage of warm sun rays. The 7.1 digital surround sound is theater-worthy, so invite the neighbors over at least once for movie night, since they'll likely be able to hear it anyway. It also comes with DirecTV satellite, DVD management system, and a movie package with up to 300 movies and concerts, including the American Film Institute's 100 Most Thrilling American Films and 100 Greatest Love Stories. Remotes come in the form of two Mini iPads, to finally enact a truce in the battle of the remotes. Since the manuals on this system must be pretty intense, purchase comes with installation and programming. Phew.


Neiman Marcus 2014 Aston Martin Vanquish Volante, $344,500

Get your James Bond on with the Neiman Marcus-exclusive 2014 Aston Martin Vanquish Volante, of which only 10 were made worldwide. High-tech materials are on display with this car; it's the first in Aston Martin in history to have a 100 percent carbon fiber shell, said to enhance safety and performance with its lightness. Underneath the Seychelles Blue hood is 6.0-liter, V-12 engine, and six-speed Touchtronic 2 automatic transmission. Naturally, the dream convertible comes with a four-piece leather luggage set, ready for some 007-type drives on a curving Italian coastline.


Lean Machine, $11,000

With a focus on simplicity in design, the Lean Machine is a fitness dream for tech purists who may love the minimalist look of Apple products. Inspired by late 19th century unicycles, the futuristic machine doesn't have the eyesore factor of most at-home gym machines. Rivaling world-class bikes worthy of the Tour de France, the Lean Machine's Italian; made of carbon, steel, and fiberglass with carbon handlebars; and offers 12 levels of programmed resistance.
McIntosh Speaker Audio System, $3,000

Handcrafted in the US and designed to buck the tech tradition of planned obsolescence, intended, rather, to last a lifetime is the McIntosh McAire in a design exclusive to Neiman Marcus. The built-in Apple Airplay streams music from Mac and PC-based iTunes catalogs along with music from an iDevice.
Gold Darth Vader and Yoda Cufflinks, $4,000-$4,200

We know a love of Star Wars is serious business, so time to stop messing around with simple brass or gold-plated accessories. Honor the space opera with limited-edition 14-karat yellow gold — that's solid gold — Yoda ($4,000) and Darth Vader ($4,200, the Dark Side is always a pricier place) Cufflinks. No one will ever question your Empire or Rebel allegiance again when these flash from your wrist.
Which of these fantasy gifts tops your wish list?