Neo-i Pico Projector For iPhone and iPod
See and Hear Your Favorite Vids With the Neo-i Projector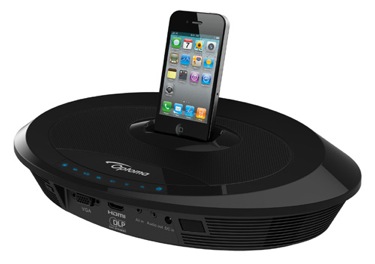 If you're constantly sharing the latest videos with your friends on your iPhone, iPod, or iPad while hanging at home, you're in luck: Optoma, maker of the pocket Pico projector for iPod or iPhone, has made a sound dock that includes a projector.
Shipping next month, the Neo-i packs all the great audio-enriching features of a typical iPod sound dock, like a two-speaker bass-enhancing system, but also adds a visual element with a projector that can turn any dark room into a screening of your Netflix Instant Queue.
Find out more (including the price) after the break.
In addition to your iDevices, the Neo-i accepts VGA and HDMI video inputs directly, which is good news if you want to hook it up your Apple TV, iPad, or other devices with HDMI-out. And it sounds easy to move from room to room: the 2.5-pound dock has an optional battery pack and includes a remote control.
At $450 the Neo-i is pricey and not as sleekly designed as other high-end sound docks, meaning it could be a clunky addition to your decor. But, if you're a portable video fiend, it would be a great addition to your wired home. What do you think — is this audio/visual combination worth a place on your shelf?