Nest Protect Smoke Alarm
Nest Protect Is a Very Smart Smoke Detector
"Emergency. There's carbon monoxide in the bedroom. Move to fresh air." This is what you'd hear if you had Nest Protect, a WiFi-enabled smoke detector that uses a human voice to alarm you instead of incessant beeping.
Protect is the latest home appliance gadget from Nest Labs, maker of the mobile-device-connected, money-saving Nest Thermostat. It's a smart, wall-mounted alarm made for the 21st century that does a lot more than just detect smoke.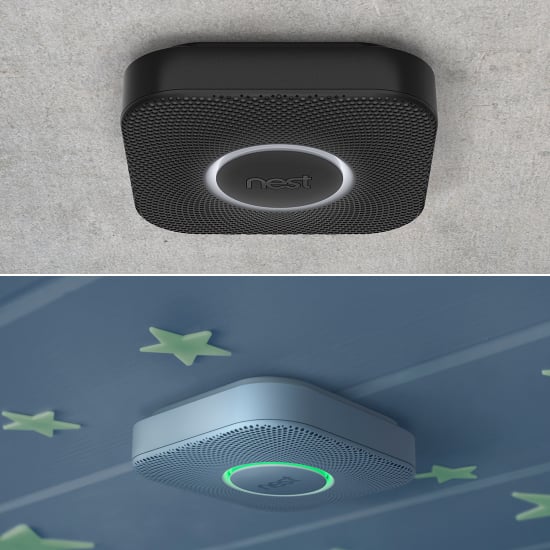 Six types of sensors — heat, carbon monoxide, smoke, light, ultrasonic, and activity — work in tandem to decipher what's actually going on below. An early warning signal that begins with "Heads-up!" will activate once Nest Protect detects rising levels of smoke or carbon monoxide. If there's just burned popcorn in the microwave, a simple hand wave beneath the device will quiet the alarm.
A distress signal that sounds like a human voice may seem strange, but it's not just a gimmick. According to Nest, children can sleep through beeps, which is why the Protect uses a female voice to accompany the alarm sounds.
Since it's connected to WiFi, Nest Protect can also tip off a smartphone or tablet with a message that details which sensors are activated, the level of danger, and the source of the smoke or carbon monoxide. The app also offers a list of recommended actions in case of an emergency. It can also pair with Nest Thermostat and shut down a gas furnace during a carbon monoxide leak.
Beyond danger detection, the Nest Protect has different practical uses. Since installation of the Protect requires it to be mounted high on a wall or ceiling, it can serve as a natural night light or LED path light.
From refrigerators to thermostats, technology is making everyday home appliances more intelligent and connected. But is being more plugged in a good thing? Or are we relying too much on tech in our homes?
The Nest Protect can be preordered today in white or black and in wired 120V or battery versions for $129.