Nest Thermostat Saves Home Energy Costs
Save on Energy Costs With a Nest at Home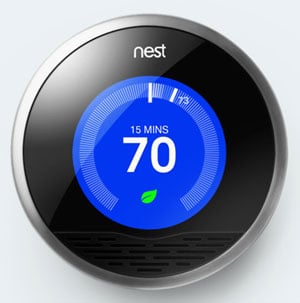 With the cold weather months quickly approaching, this may be the first time thoughts have turned to the more mundane aspects of the season — the heating bill. A new product from the former lead developer of the iPod hopes to bring pizzazz to the thermostat this year, while also lowering bills and saving energy. The Nest Labs thermostat calls itself a "learning" device, meaning it takes note of the home-owner's use over time and adjusts the temperature accordingly.
A "thermostat for the iPhone generation," Nest uses WiFi to let the user control settings through an iPhone app or the website. What sets Nest apart from the many other smart, digital thermostats out there today is the promise of an easy-to-use interface. Turning up and down the temperature is as easy as a click of the dial, while messages from Nest on how many minutes it will take to make your living room feel like a tropical paradise in December serve as gentle reminders of household energy use.
Heating and cooling accounts for nearly half of a home's energy use, so the Nest creators are hoping their sleek gadget may help to prevent overuse and keep utility bills down when it hits the market mid-November for $250 per unit.
Are there specific products you already use around the house to save energy or lower bills? To learn more about the newest addition to at-home smart technology, watch a video demo of the Nest device after the break.