Netflix Social
Netflix Social: Watch Movies With a Little Help From Your Friends
What would you do if you ran out of movies and TV shows to watch? Netflix is going to try to get you by with a little help from your friends. The online streaming and DVD rental service introduced Netflix Social today, a feature that lets users connect a Facebook account to see (or snoop) their friends' viewing history.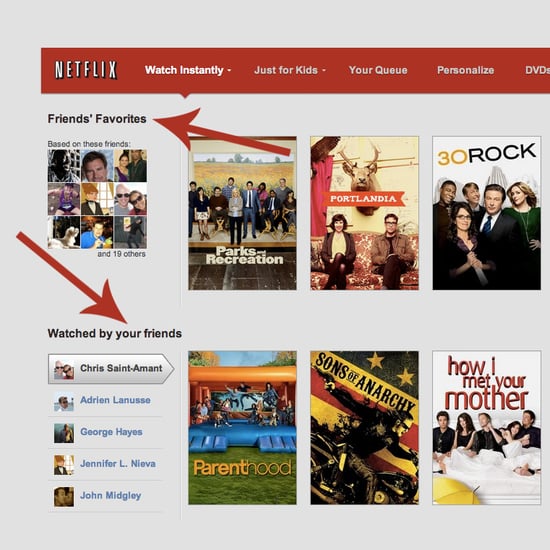 Netflix Social could definitely come in handy — but only if you and your friends have the same taste in TV. If the political thriller House of Cards is getting rave reviews from everyone in your network, it's probably time for you to jump on the bandwagon.
But before you connect and agree to share, get to know Netflix Social's new friendly features.
Friends' Favorites — Only titles rated with four or five stars by your friends will appear in this row.
Watched by Your Friends — Everyone in your network that has connected to Netflix will show up in this category. You can hover over a list of friends in the left to see everything they've watched.
Unshare Button — Well, you may not see everything your friends have watched. The Unshare Button might be the most important Netflix Social feature by far. If, for example, your little cousin was borrowing your account to watch eight straight hours of SpongeBob, you can choose not to share the cartoon binge by clicking on "Don't Share This" on the bottom right of the player.
Your viewing history is public only on Netflix by default. The movies and TV shows you've watched will not appear on your Facebook profile, unless specified by you in Your Account > Social Settings.
We want to know what you think: is Netflix Social a great way to discover new movies? Or is the new Facebook integration a little too friendly?