Netflix iPhone App
Netflix Watch Instantly App Appears; Why You Should Beware
The day has finally arrived! We've been waiting anxiously for the newly updated Netflix App (free) for iPhone and iPod Touch, and it has finally hit the App Store this morning.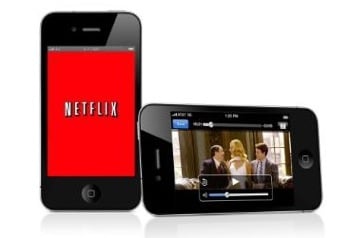 The new app allows you to connect your Netflix subscription (starting at $9 a month) to your device, watch movies and TV shows instantly, add and remove titles from your instant queue, and stream flicks over WiFi or 3G.
The app, which has been optimized for the iPhone 4's multitasking abilities (but not its retina display), allows viewers to fast forward and rewind, pause, and even resume where you last left off from your TV or computer with just a tap. The movies and TV episodes are categorized by genre so you can track them down easily, and there's even a "search" field if you're hunting down a particular title. This app is great for movie buffs and TV fans who can't go too long without a fix and would definitely come in handy for kids and parents alike while traveling on the road or in the air.
Not to be a buzz-kill, but there is a downside to all this movie streaming goodness. Find out what it is after the break.
I know you're pumped to use the new app, but take note of this bit of advice: use WiFi where you can. If you're on one of AT&T's new tiered data plans (coming in 200MB or 2GB increments), using 3G to stream your favorite shows could put you over your data limit, and fast. According to AT&T's data grids, watching just 20 minutes of standard-quality video (along with other tasks like sending/receiving 1,000 emails, browsing 400 web pages, and uploading 50 pics to Facebook) could top you off at your 200MB limit, while 200 minutes of video (along with 10,000 emails, 4,000 webpages, and 50 photo uploads) would catapult you to 2GB of data per month.
What does this mean for you? Unless you want to start paying up to $15 for every overage of data, you should start sussing out WiFi where you can — at home, at Starbucks, at the airport, on a plane, anywhere. Since the app does not have a WiFi-only mode, you can switch off your iPhone's 3G (by heading to Settings > Airplane Mode > On) and leaving your iPhone's WiFi on. This, of course, will render your iPhone unusable for phone calls and emails, but if you're watching a movie, at least you won't be interrupted.
Of course, you lucky legacy iPhone owners who still have unlimited data plans need not worry about all these boring details (watch all the flicks you want!), but for the rest of you, it's good to keep track of how much data you're really using so you don't end up paying out the nose next month.