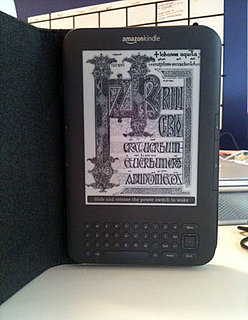 Barnes & Noble is set to make a "major announcement" tomorrow, so of course the competition is pulling out all the stops. Just days after it announced an upgrade to its Kindle software, Amazon has announced that the latest Kindle is the fastest-selling Kindle to date — though Amazon has never released sales figures for any version of its ereader.
The newest model, released in June, features a new, smaller size, faster software, and a better screen — plus an affordable $140 price to start. In addition to the ereader's success, Amazon also announced that the sales of ebooks over the past 30 days have surpassed the sales of paperbacks and hardcovers combined on its website.
Find out more, including what Barnes & Noble could have up its sleeve, when you read more.
As for Barnes & Noble, many are speculating that it plans to unveil a new Nook with a color screen tomorrow, thanks to a few leaked images and details. Additionally, the Nook Color is rumored to be heading to Best Buy for sale, just like the Kindle.