New Apple TV at iPad Apple Event
Apple Unveils New Apple TV Today
Before Tim Cook revealed the new iPad at today's Apple event, the company showed off its newest addition to your living room: the revamped Apple TV. Available next week for $99 with preorders starting today, the new Apple TV improves on its predecessor with a 1080p streamlined user interface, compatible with other Apple products. iPhone photos will automatically upload for viewing on Apple TV.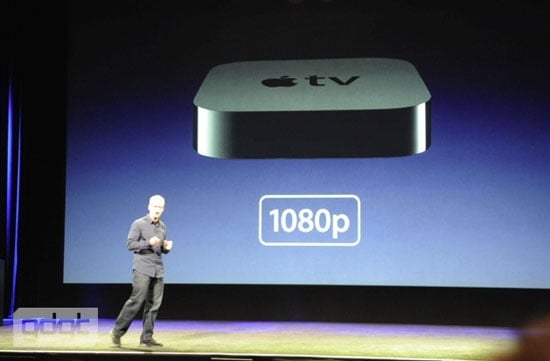 Watch TV shows the day after they air on cable; no week of waiting for iTunes availability. Speaking of iTunes, Apple TV uses many of the same services iTunes users already know. Get program recommendations with Genius, iTunes Match support, and even access your iTunes playlists from the cloud. Of course, apps are at your disposal with Apple TV, including Netflix, Flickr, MLB.tv, and YouTube to name a few.
Stay tuned for more updates on the Apple TV.
Source: Gdgt