New Apple iPad 2012 Details
Apple Unveils New iPad
Apple CEO Tim Cook announced the new iPad in San Francisco today. At just 9.4 mm thin and weighing just 1.4 pounds, the new iPad is slightly heavier than its predecessor and comes with improved features over the iPad 2. Let's check them out, one by one below: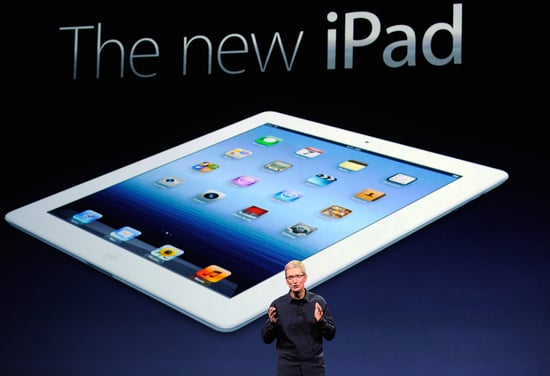 Improved display — The next iPad will come with an amazing 9.7-inch 2048 x 1536 Retina display that contains 3.1 million pixels, 264 pixels per inch — that's more than your HDTV screen at home. The new screen is definitely the conversation point here, as it also has better color saturation as well (44 percent better to be exact).
Better processor — The iPad will be stocked with an Apple A5X processor that offers four times the performance as a Tegra 3 processor that you'd find in other devices, which means the next-gen iPad will be blazingly fast when watching movies, surfing the web, and flipping through photos.
Better camera — There will be a 5MP iSight cam with an illuminated sensor that offers auto exposure and auto focus.
High-def video recording — The iPad will be capable of 1080p recording with footage stabilization that helps shaky hands capture great videos on the fly.
Voice dictation — Not quite Siri, but the iPad will offer voice dictation for notes, texts, and other applications and support US English, British, Australian, French, German, and Japanese languages.
4G LTE — The next iPad will come with 4G LTE speeds, capable of 21, 42, and 73Mbps download speeds (depending on band — HSPA+, DC-HSDPA, or LTE), which is a huge improvement compared to the iPad 2's 3.1Mbps download speeds. LTE partners will be AT&T, Verizon, Rogers, Bell, and Telus, while 3G connectivity will be world-ready. Additionally, the new iPad can be used as a personal hotspot if the carriers support it.
The next iPad will be available on March 16 with preorders starting today. Prices start at $499 for 16GB, $599 for 32GB, and $699 for 64GB WiFi-only iPads. WiFi+ 4G-capable iPads will go for $629 for 16GB, $729 for 32GB, and $829 for 64GB.