New Barnes & Noble Nookcolor
Barnes & Noble Unveils New Nookcolor
Barnes & Noble took a big step sideways with the launch of its new Nookcolor yesterday — instead of the usual eink screen and bottom touchscreen you're used to, the Nookcolor now sports a full 7-inch color touchscreen! The Android-running ereader is slightly larger than the previous Nook and brings you books, newspapers, and magazines as usual, plus allows you to surf the Internet, listen to music,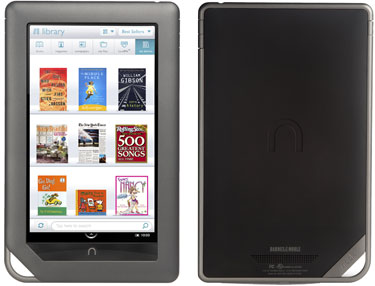 and play games. Can we even call it an ereader anymore?
The Nookcolor comes stocked with 8GB of memory space (expandable up to 32GB with a MicroSD card) which holds 3,000 books. It is WiFi-enabled, allows you to borrow books from your friends with the LendMe app, and you can customize your home screen, listen to Pandora, and get free books and deals with the Barnes & Noble "More in Store" program. All of these features makes me wonder if it's not a bare-bones tablet that hopes to steal some thunder from the new best-selling Kindle.
Like what you see? Get your credit card ready for pricing and shipping details after the jump.
You can preorder the Nookcolor now for $249, with shipping beginning on Nov. 19. In case you were wondering, the "color" in Nookcolor stands for the crisp color touchscreen — a gunmetal gray is the only color you'll get on the exterior for now.