New Bing Shopping List
Bing Gets Into Social Shopping With New Shopping Lists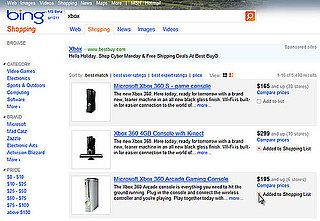 Bing's shopping function has always allowed users to compare prices and check item reviews, and starting today, a new search feature will make your holiday shopping a little bit easier. Shopping List For Bing works in conjunction with the search engine's product search, and through Facebook Connect it allows users to share their shopping lists with friends and family.
Find out how to create and share your own list after the break.
To create your own list on Bing, visit Bing.com/shopping and do a product search. Then, simply check the "Add to list" box to add it to your shopping list. Bing remembers your shopping list from visit to visit, so you're able to close your browser window and access the same list. A small "shopping module" also appears on the bottom left side of your screen for easy list access.
You can share your list with friends and family via Facebook, but two problems, as noted by The Wall Street Journal, are that you can't choose which Facebook friends to share photos with and you can't yet create multiple lists.