New Boom Boxes From TDK
TDK Boom Boxes Drop in 2011
Remember the old-school boom boxes of yesteryear? All of the awesomeness that once was will soon be available in updated form. TDK is putting a modern spin on the classic design, releasing two new boom box models: a two-speaker model, and a three-speaker model.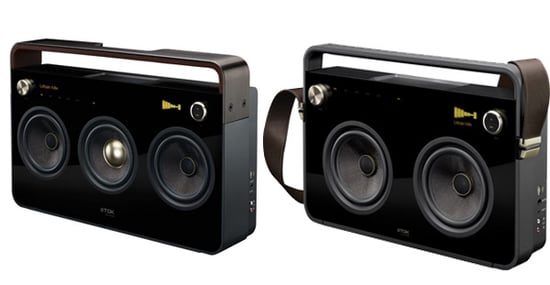 The three-speaker model, which is the largest of the two, also features a center subwoofer that creates a classic vibration with your music's bass. And the two-speaker model features a shoulder strap for easy transport (which I'm sure will be a big hit among commuters). Both models feature a power and volume knob on the left and one on the right for navigating radio stations and adjusting settings. Both feature USB, 3.5mm, and RCA auxiliary ports to connect to any music source. You can even connect a microphone or guitar to the speakers, and they'll operate with batteries or plugged into the wall.
The TDK Boom Boxes will be available in January; the two-speaker model for $399, the three-speaker model for $499.