New Facebook Messaging System
Facebook Introduces a "Modern Messaging System"
Facebook CEO Mark Zuckerberg introduced the company's new "modern messaging system" today in San Francisco, which brings together email, IMs, SMS, and Facebook messages, along with a new and unified social inbox. The new messaging system makes communicating with your contacts more like a conversation, rather than jumping from separate threads, platforms, and subjects of emails, by delivering all forms of communication in one singular thread within Facebook.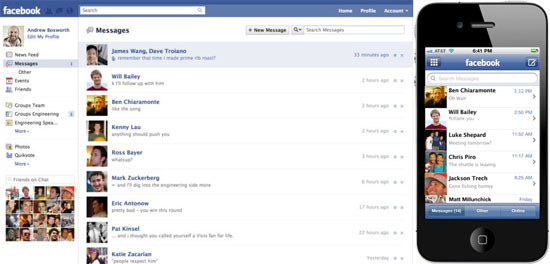 Why is this new system so great? Find out more about it after the break.
The cool thing about Facebook's new messaging system is: options and accessibility. No, the new system won't be an email killer, but it will streamline the way your messages are sent. For example, if you want to meet up with a friend for lunch, you can send her an email, IM, SMS, or FB message, and she'll receive it in one single thread (which will include all emails, IMs, SMS, and FB messages from you), instead of jumping around to different platforms to talk to you.
Why did Facebook want to combine all of these forms of communication? Mainly because it felt like email takes too long to create, and your inbox can get weighed down by multiple threads of emails from various people. Why not make email more like an IM conversation, where you can see your communication history all in one place? Bringing in IM, SMS, and FB messaging just seemed like the next logical step forward, so it's easier to talk to the people you care about the most.
More than just an integrated messaging system, you can also get an (optional) Facebook.com email address and prioritize your Facebook inbox to receive messages from certain people and bounce ones you don't. With over 350 million people using Facebook to send messages every day, I guess you could say this was a market that was bound to be tapped.
Check out Facebook's demo video about how this new messaging system can be utilized on the Facebook blog.