New Footage From Sex and the City 2
The Fab Four Fly First Class in This Exclusive HP Sex and the City 2 Trailer!
In the theatrical trailer for Sex and the City 2, Samantha gets the girls excited for "an all-expenses paid trip to Abu Dhabi," and in this exclusive trailer from HP, we not only get new footage of the film, but we get a peek at how they get to the Middle East — first-class private suites on Emirates Airlines. I've gushed about the geeky amenities in coach, but flying first class? Well, you'll need to be in a higher tax bracket to afford it — private first-class tickets go for $14,635 a pop!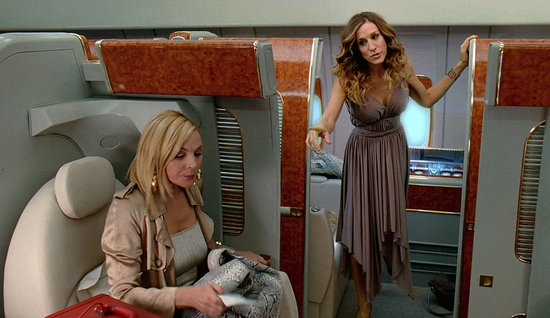 Each private suite boasts a 23-inch LCD TV (where you can check your email and send SMS texts to anyone in the world), fully reclining seats, and 600 channels on the Emirates on-demand service. We even get a glimpse of the girls lounging in the on-board bar! I'm curious to find out who the heck is footing the bill for this pricey trip. Want to see it for yourself? Watch the exclusive HP trailer for Sex and the City 2 after the jump!