New Gmail Labs Unread Message Icon
Two New Ways to Find Unread Gmail Messages
Since I generally keep my Gmail window open for much of the day, checking for new messages is like muscle memory. The downside: sometimes I do it way too often. Two new just-released tools from Google provide fast and easy access to new and unread messages.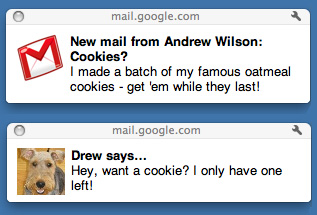 If you, like me, tend to leave at ton of browser tabs open, you'll love the latest Gmail Labs release. The new unread message icon is a tiny number that displays directly over the Gmail icon in your browser tab displaying the number of unread messages in your inbox. It's not unlike the number in parentheses that typically displays on the browser tab, but that number can sometimes get hidden if you have many open tabs. To turn it on, go to the Labs tab in settings, enable it, and click save. This lab is only available in Chrome and Firefox.
Check out the second notification feature (that works for Gchat, too!) after the break.
A second new feature, desktop notifications, alerts you with a pop-up message each time you receive a new email or chat message. This feature, which works only on Chrome, can be customized to work with Google's priority inbox. Chrome users can enable this feature in Gmail's Settings menu.