New Google Docs Features Cloud Storage and Folder Sharing
New Functionality in Google Docs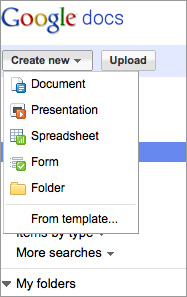 One of the most helpful services on the Internet just got even more helpful! Google Docs has a long list of new functionality rolling out in the coming weeks. The two I'm most excited about: the ability to upload any document for storage in the cloud and the ability to share folders within Google Docs.
I'm a big fan of cloud storage capability. Since I work on one computer and keep another at home, I have to use a flash drive or email myself to keep my files with me at all times. With this new functionality, you'll be able to upload one or multiple files to Google Docs. Each time you upload a file, you'll be notified how much space you're using and how much free space you have left. Don't forget: you're always able to purchase additional storage space.
For more on folder sharing,
.
The second exciting and useful function: sharing folders with collaborators. Create folders in Google Docs and drag relevant documents and spreadsheets into each folder. Then share the folder as you would share a regular Google Doc. One note: you will be able to share files within the folders that haven't been converted to Google Doc format, but you won't be able to collaborate on these files.