New Google Earth 6 Details
Google Earth 6, Now With 3D Trees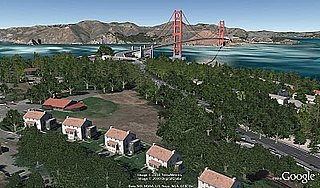 Google Earth 5 was released in September, but Google Earth 6 has already hit the deck, and it includes some amazing new functions. The latest version is characterized by two new features: integrated street view and 3D trees.
The new street view builds on the 2008 integration of Google Maps, allowing you to "fly" from outer space directly to your doorstep, corner, or any other location in one seamless flight. The familiar orange Pegman also shows up in the latest version; drag the icon onto any street to quickly zoom into that location, just like you do in Google Maps. You can even "walk" down the street using your mouse's scroll wheel, a feature exclusive to Google Earth.
Find out about the second awesome feature, 3D Trees, after the break.
In previous versions of Google Earth, trees have been conspicuously absent from 3D renderings of buildings and other man-made structures. Now, dozens of tree species are a part of the latest Google Earth. To see them, turn on the "3D buildings" layer and click the zoom slider to be taken to the ground.
Download the latest version of Google Earth at earth.google.com.