New Google Earth Site
Google Earth Gets a New and Improved Website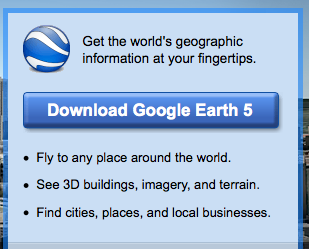 Google Earth has allowed you to explore the oceans, watch the sunrise, and even track Santa Claus's yearly flight, and now it has a new look.
Google Earth 5, available for download now, includes photos, videos, tours, and maps, all wrapped up in a brand-new site. According to Google, the new Google Earth has five main areas of improvement; find out what they are after the break.


Featured content areas showcase the moon, oceans, notable buildings (in 3D!), and more.
Video tutorials that teach you everything from how to get started using the site to how to create placemarks, record a tour, or import GPS data.
Compatibility with Google Maps and Google Earth apps for your phone for a complete user experience.
Forums to create a feeling of community on the site, plus improved newsletters, blog posts, and social networking to help you stay connected.
New, special pages created for teachers, media, businesses, and more to take full advantage of all Google Earth functionality.
Check out the new site at earth.google.com and start exploring!