New Google Goggles 1.1 With Text Translation, Better Recognition
Google Goggles 1.1: Text Translation, Improved Recognition
I'm continually impressed by Google Goggles, the Android application that allows you to identify products, places, and other objects with your phone's camera. Now, it has a new use as a translation tool.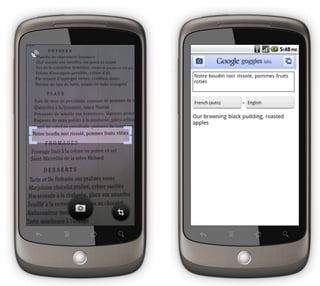 The latest version of Google Goggles reads English, French, German, Italian, and Spanish text and can translate it into many more different languages. Eventually, Google Goggles will be able to read non-Latin languages like Arabic and Chinese, too.
The just-released Google Goggles 1.1 also includes other changes and updates, too. After downloading the new version (or updating your existing one), you'll notice improved barcode recognition, recognition of many more products and logos, an improved user interface, and the ability to perform visual searches using photos stored in your photo gallery. To download Google Goggles 1.1, visit the Google Mobile Blog or search for "Google Goggles" in the Android Market.