New Google Image Search
Google Announces Revamped Image Search
In a press conference today, Google announced huge changes to its image search, aimed both at refining search results for users and introducing a new advertising unit to the mix.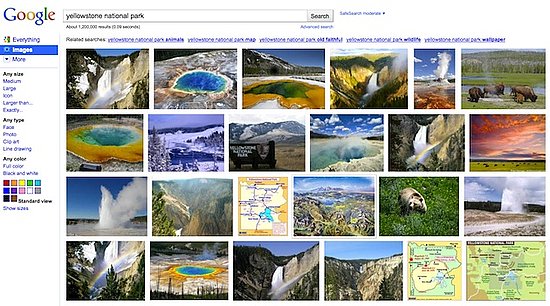 In terms of image search, there are some major changes: a new layout displays larger images with far less white space, leaving room for up to 1,000 results on a single page, while hovering over an image brings up a larger, more detailed image containing more information. But that's not all — hear about the rest of the impressive new features and when to expect the update when you read more.
Clicking on an image result takes you to the website location with a blown-up version of the image floating above the page — no more clunky frame at the top of the page. You can easily refine your image search results using the left-hand navigation; sort by type of image (clip art, photo, line drawing), color, and size.
In addition to running traditional ads on the page, advertisers will be able to include image and text ads targeted toward specific search terms.
The changes to image search have already begun to roll out to users and should be completed over the next few days.