New Google Music Service
Google Opens Its "Radio Without Rules" Music Service
Make room on your home screen for one more monthly music subscription service, this one backed by the power of the Google Play store and your own music library. Google Play Music All Access, announced Wednesday at Google I/O 2013, is the tech company's take on the growing popularity of services like Rdio and Spotify, which give customers instant access to millions of songs based on monthly subscription models.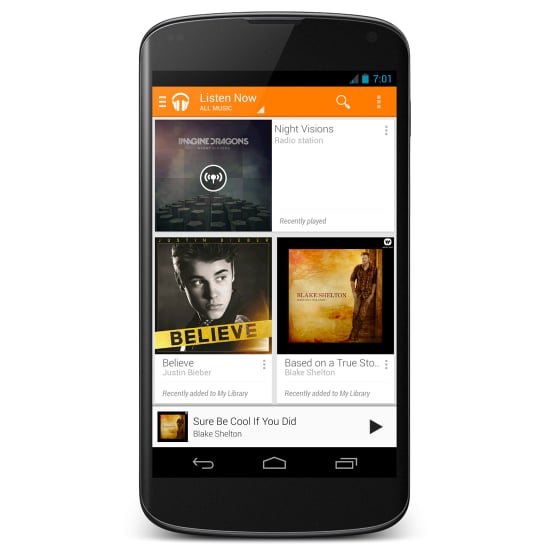 What sets Play Music All Access (a name not for the easily tongue tied) apart from the others? For starters, users can access their Google Play Music locker — their personal music collection of up to 20,000 songs — in addition to Google's catalog of millions of licensed songs all within one service.
Read on for how much Google's music streaming will cost you per month.
Available on phones, tablets, or web browsers, All Access lets users immediately create a radio station from any track they're listening to and skip an unlimited number of songs with a swipe. Get recommendations based on previous purchases, the Google Play team, and your friends' +1s.
Give Google Play Music All Access a spin in the US starting today (the service will be out to other countries in the coming weeks) to access a free 30-day trial. Each month of service is $10, or for those who sign up before June 30, $8 per month. Will you try Google's new music offerings?