New Google Voice iPhone App
Download of the Day: Google Voice For iPhone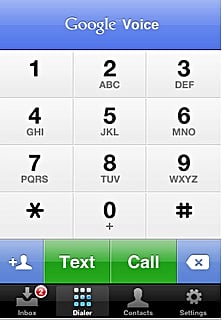 A few Google Voice apps have managed to make their way into the iTunes Store, but until now there was no native iPhone app from Google (though there are for both Android and BlackBerry). Now, there is.
The just released Google Voice For iPhone app is built in HTML 5. It gives you easy access to all Google Voice's desirable features, like cheap international calling, free text messaging in the US, and voice mail transcription. It also offers push notification for new messages or voice mails. The app pulls from both your Gmail contacts and those on your phone, creating one comprehensive list of friends, family, and business contacts.
Find out more about the app, including a few problems I've already encountered when using it after the break.
The app is free and works on phones running iOS 3.1 or higher, though users running older iOS versions may experience some trouble. While running the app using iOS 3.1.2, it crashed each time I tried to access a new SMS. Overall, the app is what Google Voice users have been waiting for — a native application that allows easy access and use of all of Google Voice's features.
One note: the Google Voice app works only on the iPhone, not on the iPod Touch. There's no official word from Apple on the exclusivity, though it's reasonable to assume Apple blocked the app on the iPod Touch to keep users from using their Touches as phones.