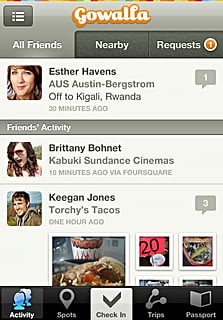 Popular location-based app Gowalla released today its most significant update to date. The biggest addition: the integration of other location-based services via a "combined activity tab" that merges your Gowalla check-ins with Facebook Places and Foursquare check-ins, and it enables sharing via Twitter and Tumblr. In addition, you can see friends' Foursquare and Facebook check-ins directly in your Gowalla news feed, without hitting up any other service.
The new Gowalla is also sporting a new, smarter check-in system that "guesses" where you may be based on your current location and check-in history, similar to Foursquare's "My Favorites" location suggestions. And that's not all! For more of what's new, keep reading.
Here's more of what's new in Gowalla 3:
An improved photo preview allows you to quickly view photos friends are posting from various locations.
The addition of Bookmarks allows you to flag favorite spots or places you'd like to check out in the future, similar to bookmarking a web page.
You can now leave Notes at certain locations, and (this is the best part!) you can even leave a note for yourself or a specific friend! Plus, you can leave these notes via the app or the website.
Gowalla 3 for iPhone is available now, with iPad, Android, and BlackBerry updates coming soon.