Just before CES, HP announced an impressive list of updates to its Pavilion dm1, Envy 17, Pavilion dv6 and dv7, and Mini 210. Here are all the details on what to expect in 2011.
HP Pavilion dm1
One of HP's most portable laptops, the dm1 is less than one inch thick with an 11.6-inch display and full size keyboard. It also features HP's CoolSense technology that adjusts cooling levels according to the user's preference. GPS and an external Blu-ray player are optional add-ons, and the dm1 has nearly 11 hours of battery life. It's available starting on Jan. 9, from $450.
Check out the latest news about the HP Envy 17 and Mini 210 (my fave!) after the break.
HP Envy 17
This popular line of high-performing laptop computer also got an update; CoolSense was added to the Envy 17 too, making it the highest-performing PC to feature the technology. Plus, it now features Intel Wireless Display Technology, which allows you to share content with your TV and other screens. Included, Beats Audio technology ensures all of your music will sound great, and the 17.3-inch screen brilliantly displays graphics while preserving battery life. There are no pricing or availability details yet, but according to HP, it will be available soon.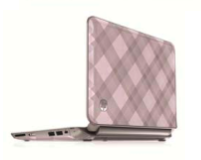 HP Mini 210
The last Mini 210 update debuted last year, with a line of fun new colors and accessories; now there are two more color options to personalize your Mini: iceberry and raspberry, both coming in plaid motifs. The Mini 210 is less than an inch thick with a battery life of nearly 11 hours, which means you can pack this pint-size computer away in nearly any tote and go (like we have for years). Both the netbook and corresponding accessories will be available on Jan. 9, starting at $350.