New, Improved Google Maps Places For Android
Improved Google Maps 4.4 For Android Adds Places Icon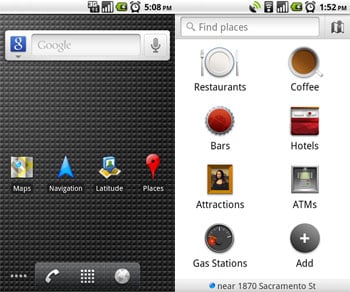 Good news local search fans — Google recently added a new dimension to the mapping and navigational capabilities of its Android devices. Places is an extension of Google Maps 4.4 that makes it easy for users to search for places relative to their location. The tool comes with built-in searches like restaurants, coffee shops, hotels, and gas stations, but users are also able to add their own customized searches to locate things they are into (city dwellers may find a "Parking Garage" custom search to be most helpful, indeed).
Search result listings are upgraded in Places as well, including some handy tools that can be used while on the go. Find out more after the break.
Places search results offer up relevant and helpful information like operating hours and restaurant menu links, pulling information from services like Yelp, Zagat, and Urbanspoon. There's also OpenTable integration, so after searching for a local restaurant, you can make a reservation, too, which is crazy helpful if you're making last-minute plans while on the go. Places is available now alongside the updated Google Maps 4.4 app (Android 1.6 or higher). You'll find it in the Android Marketplace under Google Maps, while the Places function will be rolling out to BlackBerry users soon. Quick note though — once you download the updated Google Maps app, Places can be found in your app launcher, not within Google Maps.