New Jawbone Thoughts App
Jawbone Releases Thoughts, a Texting/Voicemail Hybrid App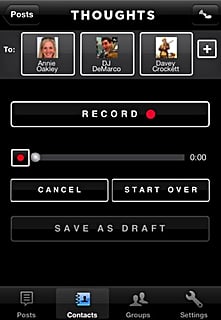 Yesterday, Jawbone released a new app that combines texting and talking for a whole new way to send messages. Thoughts for the iPhone encourages users to record thoughts or messages and then send to a friend or group of friends, similar to how you would send a text message, but without the hassle of actually typing the message. According to Jawbone, "It's like having a real conversation, but without the hassle of getting everyone together at the same time." And, if it's inconvenient for you to listen to the message, you can even have the app transcribe it for you — 10 transcriptions are included with the free app, and you can purchase more at any time.
While you do need to download the app to send a Thought, you don't need it to receive them; users can elect to have their Thoughts delivered via email or SMS, too. While I don't necessarily think that we need yet another way to send a message to a friend, the concept behind this is kind of fun. What do you think?
Take a look at the funny instructional video after the break.