New Kindle Details
Get the Lowdown on Amazon's Two New Kindles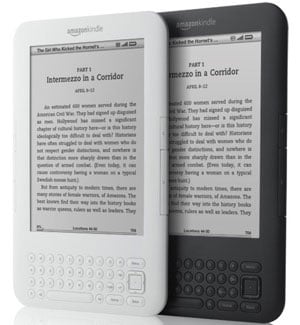 Speculation was running rampant, but now it's official — there are two new Kindles on Amazon's block. The announcement was teased yesterday by the WSJ, but now we can talk official details. It's difficult to tell the difference between the two, as both models come with identical specs; the difference lies in connectivity — one is equipped with WiFi and 3G, while the second model is WiFi only.
Some Kindle fans may have been hoping for a touchscreen interface on the next-gen ereader, but in a recent interview, Amazon CEO Jeff Bezos explains why it wasn't included in the update, saying that it adds "an extra layer on top of the display surface, and it increases glare."
But size and color aren't the only significant updates to the new Kindle. Check out the rest of the details after the jump.
The new Kindle comes with a lighter body — 15 percent lighter to be exact, and comes in 21 percent smaller than the Kindle 2 while keeping its 6-inch screen intact. Both models come in white or graphite, store 50 percent more books (3,500) than previous models, come with enhanced PDF viewing (with notes and highlights), and can go a whole month without a single battery recharge (with wireless off). Improved fonts, screen sharpness, and grayscale contrast make books easier to read, and the Kindle can be read outside anytime since it travels glare-free. What's more, you can download books in 60 seconds and move through your titles at lightning speed with 20 percent faster page turns. There's also an experimental webkit that hooks you up to the Internet!
Of course, if you opt for the $190 3G version, you're getting free access to Amazon's bookstore from anywhere, while the $140 WiFi-only version will allow you to download books from Hotspots and your home WiFi network. Both models can be preordered now and are set for a delivery date of August 27. Now the question is — what color!? Are you springing for a new Kindle?