New Leaked Facebook Features
Facebook Accidentally Releases "Prototype" Features to Public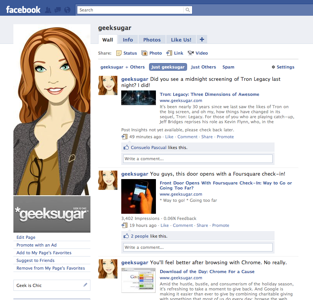 Facebook went down for nearly an hour last night, but if you were online for the preceding 45 minutes, you may have gotten a look at some new features coming with a yet-to-be-released update to the site.
According to some users, there were several new additions that disappeared after the outage that could enhance your time on the social network. Check out what was discovered below.
Updated Facebook Pages — A revamped Facebook Page may look more like a tab-free profile or Places page, with a "switch accounts" feature for admins.
New news feed — Will there be an RSS-type filter being integrated into your news feeds?
Find out what else could be coming to Facebook in the near future after the break.
Memories — A brand-new feature that would give you a quick snapshot of how many status updates, photos, friends, likes, and events you attended or uploaded in every year you've been a Facebook member. No real info on if this area will hold other details or serve other purposes.
Lightbox — Clicking on a photo would bring the image into the forefront, while the rest of your page turns black to minimize distraction. Think: Flickr lightboxes.
Questions — The questions page got a bit of an overhaul, looking cleaner and more streamlined.