New Mac Mini and Apple Store Apps
Updates You May Have Missed: Mac Mini and Apple Store App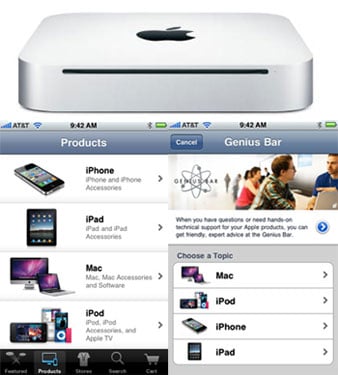 With all the iPhone 4 preorder madness, you may have missed a few other updates coming from Apple yesterday — a new Mac Mini refresh and the Apple Store App for iPhone.
First up, the Mac Mini: an all-new 7.7-inch unibody aluminum casing packs in an HDMI port for hi-def viewing, SD card slot to transfer photos, an upgraded NVIDIA GeForce 320M graphics card, 2.4 GHz Intel Core 2 Duo processor, 320GB hard and 2GB of RAM. Additionally, there's now an integrated power supply (which frees up some room from that old power brick) and a removable bottom so you can upgrade your RAM yourself. Available now, prices start at $699.
Find out more about Apple's newest app after the jump.
Apple also released their own free Apple Store app that lets you browse products, make Genius Bar appointments, shop, and find your nearest physical Apple store, right from your iPhone or iPod Touch. You can also preorder and upgrade to an iPhone 4 from inside the app — it worked for me!