New MacBook Air and Mac Mini Features
Apple Upgrades MacBook Air, Mini, Does Away With White MacBook
Apple added and subtracted a few things from its Apple Store this morning, boosting the MacBook Air and Mac Mini models with some additional features, rolling out OSX Lion for purchase, and doing away with the white MacBook forever, encouraging you to tote lighter, faster, and sleeker laptops for years to come. Learn about the details of each change below!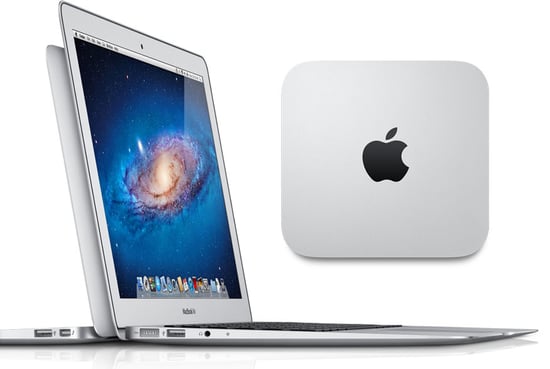 MacBook Air
The new Macbook Airs are the lightest, thinnest, and cheapest in the laptop category now, with the 11-inch starting at $999 and the 13-inch at $1,299. New specs in both models include a back-lit keyboard, new and fast i5 and i7 Intel processors, and Thunderbolt connections for fast data transfer. Of course, you still get the same sleek touchpad, flash storage, and long-lasting battery life in all of the models along with the latest version of OSX Lion.
Find out what's new with the Mac Mini and OSX Lion after the jump.
Mac Mini
The tiny (1.4-inch thick) upgraded Mac Mini will come with a seamless unibody, which means bye-bye optical drive! Adding to its sleekness, Apple has removed the power brick from the machine, so all you see is one single power cord running from your computer to the wall outlet. Also included is a Thunderbolt connector (along with a plethora of other connection options), faster processors (a 2.3GHz or 2.5GHz dual-core Intel Core i5, or an even faster 2.7GHz Intel Core i7) and graphics, and a removable panel, so you can get in there and upgrade your memory as you wish. It comes stocked with OSX Lion and starts at $599.
OSX Lion
OSX Lion has finally hit the scene, and for a price of $30, you can get all the awesome goodies that were teased back in June for WWDC, including:
Versions — Lion automatically saves a version of any document you're working on every time you open the file as well as every hour you're working, so you're never too far from your last update.
Resume — A lifesaver for anyone who wants to run their updates, but doesn't want to lose their work, Resume automatically opens up every app, browser tab, and document you were working on before you had to restart.
Conversations in Mail 5 — Conversation threads finally come to Apple's Mail 5 along with a new layout that takes advantage of your Mac's screen width.
Airdrop — You can send files to any nearby Airdrop user wirelessly without the need to use any external software or tools. To use, just activate Airdrop via the icon in the finder sidebar, and then find the contact you wish to send a file to. Drag the file into its name, and once the file is accepted and transferred (with encryption) then you can close out of Airdrop, cutting off access to your computer's network.