New Marvel Branded TV Sets
Don't Just Get a TV, Get an Iron Man TV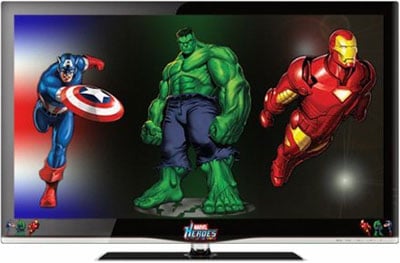 Hold on to your hats, nerds — a company called Roundtable Concepts is launching their own line of Marvel-branded LCD and LED HDTVs that will arrive styled in classic Marvel comic book characters like Iron Man, The Hulk, Captain America, Fantastic Four, and more. Ranging in sizes from 22" to 46", these TV sets will have your choice of superhero embellished on the bottom corners of the set, but it's when you power it on that all the magic happens — an image of your character (and their name) will flash across the screen for about 8 seconds.
Find out more (including the price!) after the break.
If the packaging bells and whistles aren't enough for you, the good news is that these sets come with an ample selection of inputs and outputs (so you can hook up all your peripherals without much hassle), along with four HDMI connections. Prices start at $340 for a 22" LCD screen, all the way up to $2,000 for a 46" LED HDTV. You can order yours online now!