New Microsoft Office
What's New in Microsoft's Cloud-Based Office
Microsoft Office, a staple of office worker bees and students, has finally joined the cloud migration with today's release of Office 365 Home Premium, with one major difference to its style of yore: subscription-based software. Does the jump to web-based tools level the playing field between Microsoft and Google's Drive products? With updates to the set of Office programs, Word, Excel, PowerPoint, OneNote, Outlook, Publisher, and Access, we've made note of the six biggest changes to Office 365 below.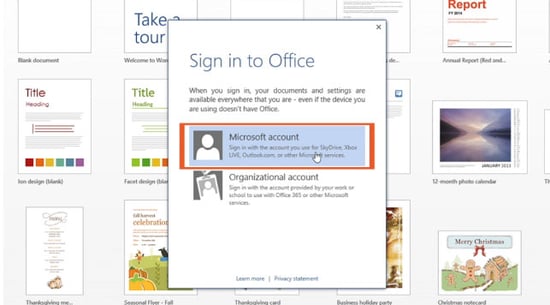 Buy or rent — Pay $100 for one year of Microsoft Office, or "rent" the service on a $10-per-month basis. Students and teachers can opt for Office 365 University, a four-year subscription for $80.
One subscription, five devices — A single paid subscription to Office can then be used across five devices including PCs, Macs, and Windows mobile devices. A license model now keeps up with the amount of tablets, phones, and computers a household may have.
Office On Demand — On a laptop without Office installed? Use any computer with Windows 7 or 8 installed, sign in to your Microsoft account on office.com, then select the logo of the Office On Demand program you need, and voilà — access to a fully functioning (not a smaller web app) Office program that'll save any documents to SkyDrive storage.
Touch-friendly interface — The Office suite was redesigned with touch-enabled devices in mind. Whether it's a tablet or convertible laptop, a double tap of buttons easily replaces the old cursor's moves.
Storage and calling perks — Get an extra 20GB of SkyDrive cloud storage free with an Office 365 account; basic SkyDrive storage is 7GB free. Plus, receive 60 free Skype world calling minutes per month to mobile phones, landlines, or PCs.
Auto update — How many times a week do you find yourself waiting for your operating system to update Office? Auto updates ensure you'll never be left manually upgrading software, yet always be using the most recent version of the program suite.
Are you planning to subscribe to the new Office?