New MoMA iPhone App
Download of the Day: MoMA App For iPhone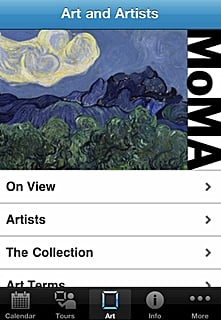 I already listed this app as one to download this weekend, but thought it was worthy of its own shout-out, in order to dig a little deeper into its features. The free app, which is based around the museum's flagship NYC location, serves as both an information hub for current museum exhibitions, and database of works in MoMA's collection numbering in the tens of thousands. Additionally, users can use the free app to plan a visit to the museum, take multimedia tours, or learn about featured artists and their works.
Not only that, but you can also create virtual postcards in the app to send to friends, snapping photos of the actual pieces or choosing from a selection of preloaded photos. The interface is optimized for viewing on iPhone 4's Retina Display screen, but will work on any iPhone. It's a perfect companion for your next trip to the MoMA, and even if you aren't heading out, a cool app to have on deck to learn about the nations amazing works of art.
Have you found a cool download-worthy treasure you'd like to share with the rest of us? Join the Download of the Day group, where you can submit your favorite downloads, apps, and widgets. Your suggestion could be featured on GeekSugar!